---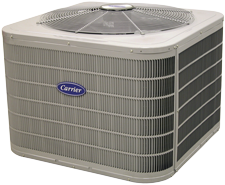 You need two things to keep your home perfectly cool: Dependable cooling equipment and a trustworthy contractor. You'll find both at Fayette Furnace.
Reliable Air Conditioning Installation
Fayette Furnace is a distinguished Carrier Dealer, because each and every member of our team has demonstrated superior knowledge, expertise and integrity. We partner the right equipment with proper installation.
AC Installation in Uniontown, PA | Central Air Conditioning Installation Masontown, PA | AC Replacement Oliver, PA
Over one hundred years ago, Willis Carrier invented modern air conditioning. Carrier has continued to lead the charge with the most sophisticated technology and outstanding efficiency ever since. With unequaled SEER ratings, noiseless operation and dependable longevity, the Carrier Infinity Series is the crown jewel of home cooling.
New A/C Installation
Have you ever considered the installation of a Heat Pump? A Heat Pump utilizes a single system to handle both the heating and cooling of your home. Heat Pumps are amazingly efficient, because they transfer heat, rather than burn fuel to create it. You'll enjoy precise temperature control throughout your home, year round with a significant reduction in energy consumption.
AC SERVICE IN Tri-County Area | AC INSTALLATION
Call the cooling specialists from Fayette Furnace. We've installed thousands of cooling systems throughout the Uniontown area and are familiar with the unique weather conditions, humidity levels and local utility costs. We provide a broad range of options for any size home or budget, offer free estimates and put our extensive experience to work for you.
Brownsville • Connellsville • Masontown • Perryopolis • Smithfield • Uniontown