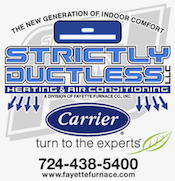 Get in touch with Fayette Furnace Company at (724) 438-5400 to solve your comfort needs in Brownsville, Connellsville, Uniontown, Masontown, Perryopolis & Smithfield, PA. We've specialized in ductless heating and cooling for nearly twenty years. As your local authorized Carrier dealer, we offer the opportunity to expand, improve, and target temperature control, no matter the demands of your home. Whether you're building new or live in an older home, are converting an existing space or dealing with specific rooms that tend to feel chilly or overheated, ductless heating and cooling is the right answer.
Reliable Ductless Heating & Cooling System Installations
A Carrier ductless multi-zone system partners a single outdoor unit with up to five indoor air handlers. The air handlers are available in different styles, allow flexible location, operate quietly, and feature independent thermostats. From a wireless remote or even your smartphone, you can personalize temperature room-by-room, optimizing comfort and efficiency. And with innovative inverter technology, Carrier heat pumps or air conditioners maximize monthly cost savings.
Call on our team for all your ductless HVAC repairs, maintenance & installations!
Fayette Furnace Company handles your start-to-finish project quickly, properly, and to your specifications. We design a ductless system to resolve your concerns and meet your needs and budget. Most installation projects are completed in one day. Our team is qualified in the essential maintenance and skilled repair of all makes and models of ductless units. For a full range of ductless services, Fayette Furnace Company is your trusted source throughout Brownsville, Connellsville, Uniontown, Masontown, Perryopolis & Smithfield, PA.
Ductless HVAC Service in Uniontown, PA | AC Mini Splints Masontown, PA | Ductless HVAC Repair Connellsville, PA
Ductless HVAC Installation

∴

AC Mini Splints

∴

Ductless HVAC Service

∴

Ductless HVAC Repair ∴ Hopwood, PA ∴ Oliver, PA ∴ Uniontown, PA