Heating & Furnace Installation
---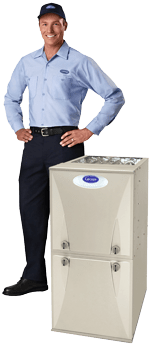 When the temperatures dip into the single digits, you'll be warm and toasty with a professionally installed heating system from Fayette Furnace. No matter your preference, Fayette Furnace has the ideal solution for winter warmth. From geothermal, wood/coal fireplaces and heat pumps to gas and oil furnaces and radiant floor heating, the experts from Fayette Furnace make the installation process a snap.
Carrier Authorized
Fayette Furnace is a Carrier Dealer, delivering the most energy efficient, dependable products on the market. Recognized for superior warranty coverage, unrivaled AFUE ratings and system longevity, the Carrier Infinity Series puts the most precise temperature control at your fingertips. And with an option to satisfy every budget, Carrier has something for everyone.
Heat Pump Installation
If you're looking to combine individual heating, ventilation and air conditioning units into a single system that manages year round home temperature, consider the innovation of a heat pump. By transferring heat rather than burning fuel to generate it, heat pumps are extraordinarily efficient. If you heat with electricity, you can lower your electric bill as much as 40%. Call Fayette Furnace to speak with a knowledgeable performance specialists, and we'll be happy to discuss the many advantages of heat pump technology.
Geothermal Heating
For the most environmentally clean, cost-effective, energy-efficient space conditioning option on the market, consider geothermal heating. A geothermal system utilizes the natural heat storage ability of the earth to heat and cool your home. With operating efficiencies of 350% to 550%, geothermal systems far out-perform fossil fuel heating systems, and because there's no condensers, burners or chimneys to clean, it's nearly maintenance-free.
Fayette Furnace provides geothermal systems for residential and commercial buildings. Our certified technicians would be glad to explain the economical and environmental benefits of geothermal heating.
Carrier Ductless Systems
Whether you don't have space for ducts or want to remedy hot/cold areas, the experts at Carrier have a solution for you. With the Carrier Ductless line, you can have the perfect package of flexible applications, energy efficiency and comfort. After all, Carrier Ductless goes places standard systems can't.
Our single zone ductless systems are comprised of two units. A low profile air handler is installed inside your home, and is connected to an outdoor unit through a simple strand of wires and refrigerant line. This setup eliminates the need for ducts and allows you to put comfort exactly where you need it.
Our multi-zone ductless systems work in the same way, only with multiple indoor units per outdoor unit. These systems allow comfort control in up to 9 rooms for Infinity models and up to 5 rooms for Performance models. With SEER Ratings up to 30.5.
Radiant Floor Heating
How would you like to walk barefoot across your kitchen floor in January and stay wonderfully warm? The answer is radiant floor heating. It not only keeps your toes warm, but the rest of you as well. It's simple to install, energy efficient and provides soothing warmth to all types of floor surfaces.
HEATING INSTALLATION IN Tri-County Area | FURNACE INSTALLATION
Whether you're in the market for gas/oil furnaces, wood/coal fireplaces, geothermal heat pumps, or radiant floor heating, Fayette Furnace answers your needs with the most comprehensive products, experienced technicians and professional heating service. You can count on us to keep you warm during that long Uniontown winter.
Brownsville • Connellsville • Masontown • Perryopolis • Smithfield • Uniontown